Fall is officially in the air so it's time for all things pumpkin! This chaffle recipe is both simple and delicious. Whether you make this into a keto pumpkin pancake or stick with the pumpkin chaffle, the combination of spices will help your tastebuds transition to fall. These pumpkin cheesecake pancakes or waffles combine all the goodness of fall flavors without all the carbs, sugar and nut flours.
I remember when the chaffle craze first began. I did some keyword research and google wasn't even recognizing the craze for chaffles back then! Now you can find almost all the low carb recipe developers with a chaffle recipe or two. My first video on this topic was a chaffle experiment I did over two years ago when the craze first caught on. At that point, it was the first time I ever tried a chaffle and had only heard a little bit about how to do it.
During this trial I discovered one egg makes two chaffles…the commentary I got on this was pretty funny since my first chaffle ended up overflowing a bit.
Since then I've made well over 500 chaffles and consider myself experienced! The traditional version in my video is especially great as a hamburger "bun."
A pumpkin chaffle is not that different than a regular chaffle recipe. The key ingredients and methods are the same with a few modifications. Plus I wanted to make sure to use cream cheese for this pumpkin chaffle since that combination works together so well.
Disclaimer: Links may contain affiliate links, which means we may get paid a commission at no additional cost to you if you purchase through this page. Read our full disclosure here.
What is a Keto Chaffle Anyway?
Chaffles were suddenly all the rage over two years ago in 2019! People became obsessed with the Dash mini waffle maker. In the keto community, Since then, they've come out with a four at a time maker and these adorable pumpkin and skull mini waffle irons, perfect for fall. When you initially searched for #chaffle on Instagram there were only about a hundred results.
As of Ocdtober 20201, if you do the same search you get nearly 75,000 results. Chaffles are all over Pinterest and TikTok too.
While there were literally hundreds if not thousands of keto pancake and keto waffle recipes on the internet in 2019 the chaffle stood out in its simplicity. In its most basic form the chaffle contains just two ingredients: cheese and egg. So not only is the chaffle low carb, it's actually zero carb and carnivore. Chaffle recipes can vary quite widely from just the two-ingredient basic form.
Pumpkin Chaffle Spices and Glaze
This pumpkin chaffle has a few extra ingredients because it's important to get the flavor right. I developed this pumpkin chaffle recipe to taste similar to pumpkin pie. It, of course, has pumpkin pie spices and then for the cheese I chose cream cheese since it goes wonderfully well with pumpkin.
Since we're using cream cheese for this recipe, it has a slightly different texture than the typical egg and cheese chaffle recipe. It has more of a soft texture, kind of similar to french toast once it's cooked. If you'd like a more crisp chaffle, simply add a half tablespoon of mozzarella cheese to the iron, pour in the batter and add another half tablespoon to the top. The extra cheese will take up some space in the iron so just be sure to modify the amount of batter you use accordingly.
If you want to kick this chaffle recipe up a notch you should also make the glaze. It does add some extra calories to the pumpkin chaffle, but it also adds extra deliciousness!
If you love pumpkin, be sure to check out our keto pumpkin pie and our keto rum pumpkin spice cake. You could even make the pecan cream cheese glaze for these pumpkin chaffles if you prefer that to the regular glaze.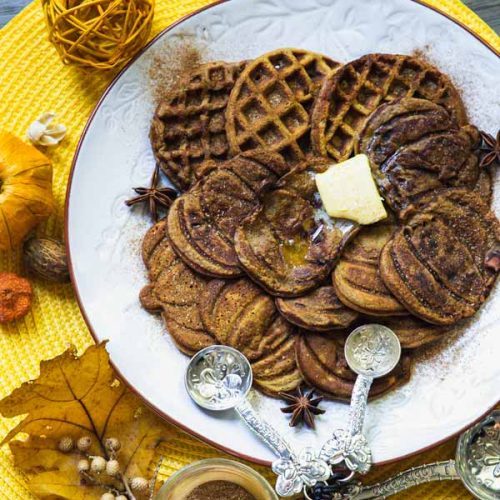 Pumpkin Cheesecake Chaffle – Keto Low Carb Recipe
This pumpkin cheesecake chaffle recipe will give you all the fall vibes!
Ingredients
Chaffle Batter
4

large

eggs

4

ounces

cream cheese

¼

cup

pumpkin

¼

teaspoon

salt

1

teaspoon

vanilla

4

tablespoons

allulose

2

tablespoons

pumpkin pie spice

½

cup

collagen

½

cup

mozzarella cheese

spray oil

for waffle iron
Cream Cheese Glaze (optional)
2

tablespoons

butter

2

tablespoons

cream cheese

¼

cup

allulose

¼

teaspoon

vanilla

1

tablespoon

cream

cinnamon sugar

keto style, can buy premixed or use crystalized alternative sugar and cinnamon in equal parts
Instructions
Mix all of the chaffle ingrdients together in a blender until smooth.

4 large eggs,

4 ounces cream cheese,

1/4 cup pumpkin,

1/4 teaspoon salt,

1 teaspoon vanilla,

4 tablespoons allulose,

2 tablespoons pumpkin pie spice,

1/2 cup collagen,

1/2 cup mozzarella cheese

If you're making the glaze, mix all ingreients together in a saucepan on the cook top over low heat until smooth.

4 ounces cream cheese,

4 tablespoons allulose,

2 tablespoons butter,

1 teaspoon vanilla

Lightly spray the waffle iron with oil.

If using the mozzarella for extra crispiness, add 1/2 tablesppon to waffle iron.

Add chaffle batter to waffle iron until just covered.

Sprinkle the top of the chaffle with 1/2 more of mozzerella chese.

Close iron and cook to desired doneness or until mozzarella chees is browned and crispy.

Top chaffles with glaze and cinnamon "sugar" if desired.
Video
Nutrition
Serving:
1
people
|
Calories:
252
kcal
|
Carbohydrates:
2
g
|
Protein:
24
g
|
Fat:
16
g
|
|
|
|
|
|
|
|
Fiber:
1
g
|
|
|
The post Pumpkin Cheesecake Chaffle – Keto Low Carb Recipe appeared first on Keto Recipes, Low Carb, Heal Nourish Grow.
Powered by Healthylifestyle